Hekatos is an intuitively-birthed passion project that came to me at a great turning point along my personal path. It is the culmination of everything I have ever known, learned, and loved in this world. This chapter of my journey began in July of 2019 after years of travelling down the long and winding road of spiritual and self-discovery.
My insatiable appetite for knowledge, truth, and enlightenment, paired with the incredible support and guidance I've received along the way, have helped me better my own life and truly begin to live with purpose. I felt a very strong calling to help and support others in the same way. As an intuitive empath and highly-sensitive individual, my mission is to support, uplift, love, and bring clarity to the lives of others through a deep understanding of their emotions. This gift, paired with a lifelong obsession with astrology, geology, and energy healing has led me here. Hello!
I am so grateful for the many journeys you've shared with me, and to have finally found my place in this wonderful, wild world. Thank you, thank you, thank you.
- Alessia
Hekatos is an online metaphysical store for modern moon goddesses that offers a carefully curated selection of ethically-sourced healing crystals, oracle decks, smudging supplies, aromatherapy, incense, books, and other spiritual supplies. It was birthed to provide you with extra support, positive energy, and infinite love along your spiritual journey. Our mission is to provide a wonderful and personal experience to each and every one, heal others, and do our part to give back and help to heal the world.
The name Hekatos is derived from the goddess, Hekate (goddess of magick, the moon, and crossroads). It means "worker from afar" or "the far-reaching one," which is exactly our mission! We exist to help others heal from afar thanks to the wonderful magic of the world wide web.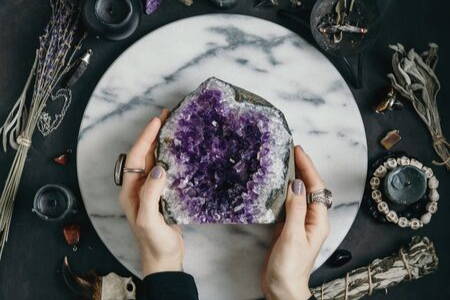 SUSTAINABILITY + ETHICAL SOURCING
We do our best to ensure our product is ethically sourced and that our shipping materials are sustainable. Much of our product is mined by hand by small-scale miners (families, small mining groups, and independent rockhounds) from small deposits with as little ecological impact as possible. Many of our suppliers are heavily involved in environmental conservation and truly giving back to (and supporting) their communities! Our supplier from Africa is involved in anti-poaching efforts and a large portion of their earnings are put into conserving their ecosystems. As crystals are carriers of energy, it is incredibly important to us that they come from a place of fairness and love!